And country music makes you want to die. (Yeah, as if that was news to anyone.)
The force required to drag sheep varies depending on the condition of the surface the sheep is being dragged over.
It's possible to rent the entire country of Liechtenstein for corporate conventions, bar mitzvahs and other gatherings.
Chicken prefer beautiful humans. (And I prefer beautiful chicken.)
If you want to know more about these topics or if you always wondered why shower curtains billow inwards check
this
out.
The Ig-Nobel prize. It's hilareous.
I guess some of the papers I wrote in the last 3 or 4 years would totally qualify for this prize.
Jonnie's blog
today inspired me for this post. I figured that his super hero likeness might want an adequate super hero girlfriend.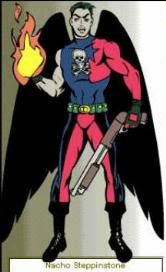 Super Jonnielein
So here we go: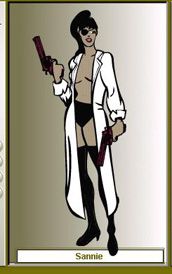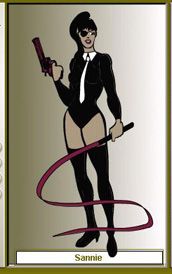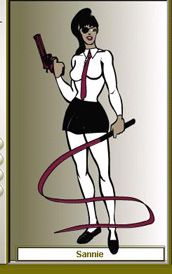 Faster Pussycat, kill, kill!
As in real life, I couldn't decide on what to wear.
Oh well, I should really continue to work now... .
P.S.: Superheroes generated by the
hero machine
.
a part of our house (the one in the middle)
,
neighbour's house I
,
neighbour's house II
me with cake
view from our livingroom
house I
,
house II
,
house III
,
house IV
,
house V
in Braubach I
,
in Braubach II
,
fountain
,
Braubach III
war memorial and fountain
,
war memorial again
,
memorial and castle
,
watchtower
old watchtower
,
Restaurant I
,
Restaurant II
,
marketplace
,
bar
bakery
,
emblem of bakery
parade I
,
parade II
,
parade III
,
free wine for everybody
,
pony had to pee
,
parade IV
mighty lemontree in our garden
,
our garden I
,
our garden II
Freddie, the really mean cat
,
Freddie again
Ok, quite a lot of pictures, but check them out, some of the pics are really beautiful and you can get an impression about were I lived for 20 years.
UPDATE:
Images from the Rhine Valley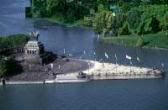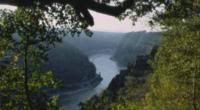 I miss Braubach. Can't wait until my next visit (Christmas).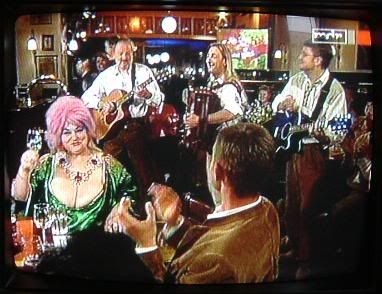 Ooompah-oompah.
And yup, I noticed the woman in the audience.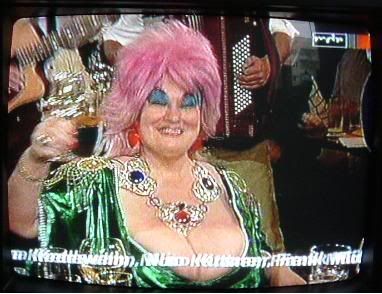 Close-up.
Dunno what's more deranging... face or cleavage... .
this test
over at
Boz' blog
who found it over on
Kat's blog
, well not in a post but in the comments and god only knows how it got there. It is some sort of relationship-test... wait, what was its title again... 20 Questions to a Better Relationship or something. However, here's my result:
eXpressive: 5/10
Practical: 6/10
Physical: 4/10
Giver: 6/10
You are a RPIG--Reserved Practical Intellectual Giver.
This makes you a
Rock of Gibraltar
.
[I'm so fat that I can be seen from Africa, or what?!]
You are loyal, kind, thoughtful and conscientious. You're a good person.
[I always said that I'm good, I ALWAYS said that I'm good. Now here we go, finally the proof. There, there, read it!]
You make everyone around you happier and better, even if you yourself are not at your happiest or best. You just care so much about your friends and loved ones that you can't help giving them everything of yourself. It can wear you out, but you'd never let on.
[Hmmm... why yes, that's also true. Yet, I'm far from being worn out.]
You're successful, smart
[smart and successful, damn right!!! hahaha]
and fun to be with, but your self-esteem could use some boosting.
[oh well, maybe... yes]
You don't like conflict
[I HATE conflict and avoid it as much as possible]
, and you don't like demanding things for yourself, so you can feel unappreciated. But then you wonder if you don't deserve to be appreciated. You do!
You have many small crushes, but it takes you ages to get to a serious stage with someone.
[hmmmm...]
You get so caught up second-guessing yourself and worrying if the other person really *likes* likes you that you never dare to make the first move.
[yep]
Generally you end up with another clever RPIG who knows one when s/he sees one.
[I'll call Jonnie my little clever rpig from now on]
This adds up to one long courtship. Fortunately this also adds up to one long marriage.
You would never cheat.
[NEVER]
You would never hurt anyone's feelings.
[I try my best]
You are so sympathetic and give so many second chances that it takes a lo-o-ong time for anyone to get on your bad side.
[YES]
Your only problem is you can be *too* thoughtful -- you can end up worrying and getting hung up over nothing.
[hmmm... probably]
You may be a boy scout.
[Huh?!?]
Of the 149903 people who have taken this quiz, 7.1 % are this type.
A good invention would be:
A remote control that makes a sound when you clap your hands or when you whistle or something. I keep mislaying my remote control and I HATE to get up my lazy ass and change the channels manually when I know I HAVE a freakin remote control and it must be somewhere in this room. Or in the bathroom. Or the kitchen. And yes, I run around the entire house with a remote control in my hand, don't ask me why.
A bad invention would be:
A cookie dunker. An apparatus that you stick in a cookie before you dip it into milk. Keeps your fingers from getting wet because everybody knows that only bad people have wet fingers. Also keeps your fingers from getting cold.
Oh wait, that invention already exists: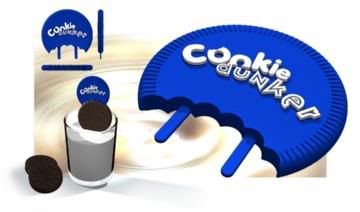 the incredible cookie dunker
This is the result: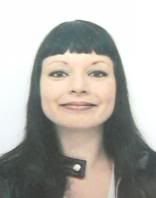 Jeez, I had no idea my face looks like a freakin' pancake.
I always worried about what position I can work in when I'll move to the States one day. What about mascot at IHOP?!
Argh.
Usually, I'm the last person to talk about politics because a) I usually don't give a shit about it and b) I don't consider myself educated enough in that field to seriously discuss it and not just throw in some platitudes.
But then, there's just no chance avoiding the presidential election these days.
As I'm writing this, the electoral vote is 254 to 252 in favor for Bush and it looks like he's going to win. But it ain't over 'till it's over, eh?
If Bush's victory really is what the majority of American people wants, ok, I'm fine with it, that's democracy. That doesn't mean that I understand or even support that decision.
What annoys me most is probably not America re-electing Bush, or Bush's politics in general, but Germany's reaction towards that. I know so many people that are pointing their fingers on America right now, knowing a solution for each and every American problem. They would do everything differently, better, of course, if only they could. They know what to do with the American election system, healthcare system, tax system, the foreign policies et cetera et cetera... but they don't give a shit about German issues. They know who they'd vote for American President (Michael Moore) but have no plan about German politicians. Let alone European politicians.
Oh blech, I really am not good in talking about politics... just wanted to say how tired I am of fellow Germans bathing in a know-it-all attitude like french fries in hot oil. I guess we're just happy not to be the #1 asshole nation of the world any more. Still, that doesn't put us in a position to be arrogant and critizise everything.
So, to make it short... Germans: Don't forget minding your own business too!
And Americans: Bush? Again? BUSH?!?!?!?!? HELLO???!!!?!?!?!