Sunday, 09/18/2005
I was busy working for this year's Bundestag elections. They set up a little office in an elementary school and I had to work in a room where the school keeps all the biology exhibits. My desk was surrounded by stuffed animals, rats and bunnys and squirrels. I loved the aura that this environment gave me and though I still don't know in what position and in what company I will work in my later life, the job better involves a desk with stuffed squirrels.
Monday, 09/19/2005
Impressed co-workers with ballpen I snuck at yesterday's election.
Bought a lotion that makes my body smell like a giant Tootsie Roll (and I mean the candy, not the Tootsie Roll as defined by
the urban dictionary
).
Quite a good day.
Tuesday, 09/20/2005
Why is it that on the more quiet days at work, when you have nothing to do and consider leaving early that just at the very moment you're shutting down your computer a co-worker comes running in, slightly panicked, asking you to help out at a project that was due 3 hours ago?!
Wednesday, 09/21/2005
Still no new (or reconfirmed) chancellor. I mean, I'd do the job if I wasn't leaving the country next year. Sure, I'm not as sportive as Schrödi...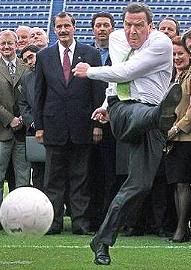 ... or as great in general...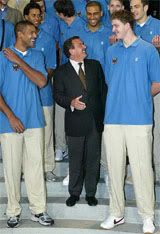 ... neither do I think I could welcome foreign politicians like he did...
but still, I think I'd make a good chancellor, if only I had the time.
P.S.:[note to self: ask American friends if they want to be chancellor over here. Germans love foreign leaders!]
Thursday, 09/22/2005
I was informed about the details of some sort of "corporate image movie" about our company which will be shot next monday. I'll play an ordinary employee who sits in front of a computer and listens to the boss talking and who hops through the hall every now and then. I don't know if I can do that.
Friday, 09/23/2005
Still no chancellor. God, don't let it be her:
Saturday, 09/24/2005
Dear diary, let me tell you there IS a reason other than convenience that people use fabricated shampoo and conditioner rather than making their own stuff. I tried a self-made olive oil/ egg yolk/ lemon conditioner today and not only did it leave my kitchen and bathroom in a complete mess, I just can't get that smell off my hair. Not that there's anything wrong with smelling like a Spanish breakfast, but it just doesn't go along well with the rest of the body (see monday).
#
| posted by Sandra at 1:49 PM ::